Decarbonization is a journey, not a project. It starts by understating your baseline and then a comprehensive roadmap that requires mining and electrical engineers, computer science and an understanding of ecosystems to achieve this goal.
At Entech we are addressing all levels of decarbonization from the Physical equipment, the use of IoT sensors and the processing of the power demand.
Our Client Journey.
We take our clients on a journey that starts with the:
Optimization of power and demand to reduce operating and capital expenses retrospectively. We see our mines are consuming more power than needed and the demand peak requires an expensive generator to be operating more than needed.

Integrating renewables, we see opportunities across the whole mining chain to instigate renewable on current systems. The saving is a drop in demand where significant carbon reduction is achieved early

Like all engineers (as we are) we see asset integration as a fundamental that can only be achieved by coupling systems using permissive technologies and simulating these results to achieve real savings. There is no use have one part of the system running hot when a bottleneck is reducing capacity.

Electrified fleet, our view is this is a later step and needs to be realized before the operation is ready. To us this low hanging fruit that most companies are leaping toward without the understanding of the systems needed and constraints involved.

Optimized renewables can only be achieved by engineers alike, and we are committed to developing technology and methods to achieve this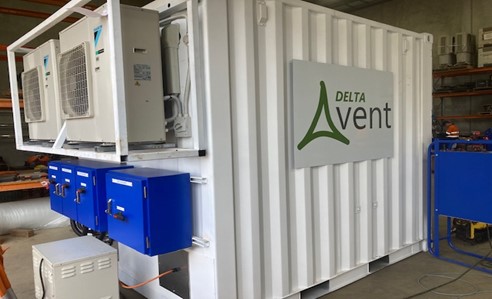 What We Are Doing.
We and our partners are working with major mining companies to meet their decarbonization goal.
To support this, we have launched a new product range called Delta. Delta packages our solutions to provide the early baseline in any part of the mine and measure improvements on day one. We are seeing our select group of customers investing in us to provide realistic solutions.
Our Ventilation Decarb Architecture.